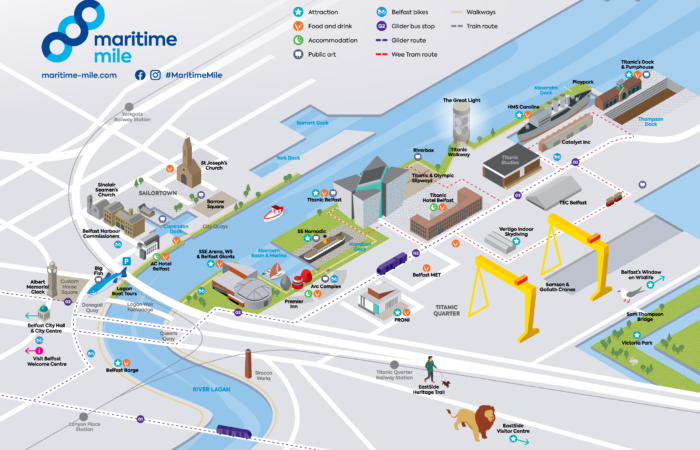 The Maritime Mile is an award winning initiative developed by Maritime Belfast Trust in association with the Belfast Harbour, Odyssey Trust and Titanic Quarter Limited. It aims to connect the waterfront physically, recognising that the sum of its parts is much greater than the individual components. It also connects with people emotionally, engaging local neighbourhoods, residents and visitors through interpretation, storytelling, events and animation.
Local businesses on the Maritime Mile can get involved by contacting us directly to discuss opportunities.  This includes listing on www.maritime-mile.com website, in visitor publications and in Maritime Mile campaigns.  Businesses are invited to use the Maritime Mile brand. We also have a media library which is a free resource, contact us for access.
You can read our Development and Animation Strategy below. We've also developed a Toolkit for the Maritime Mile that highlights the retained heritage features, the palette of colours across the area, and recommends approaches for public realm, seating and landscaping.
Maritime Mile: Development & Animation Strategy
The Maritime Mile coming to life
We have already begun delivering a number of initiatives along the Maritime Mile to animate it and encourage both locals and visitors to Belfast to engage with the city's iconic heritage waterfront.
The Maritime Mile Treasure Trail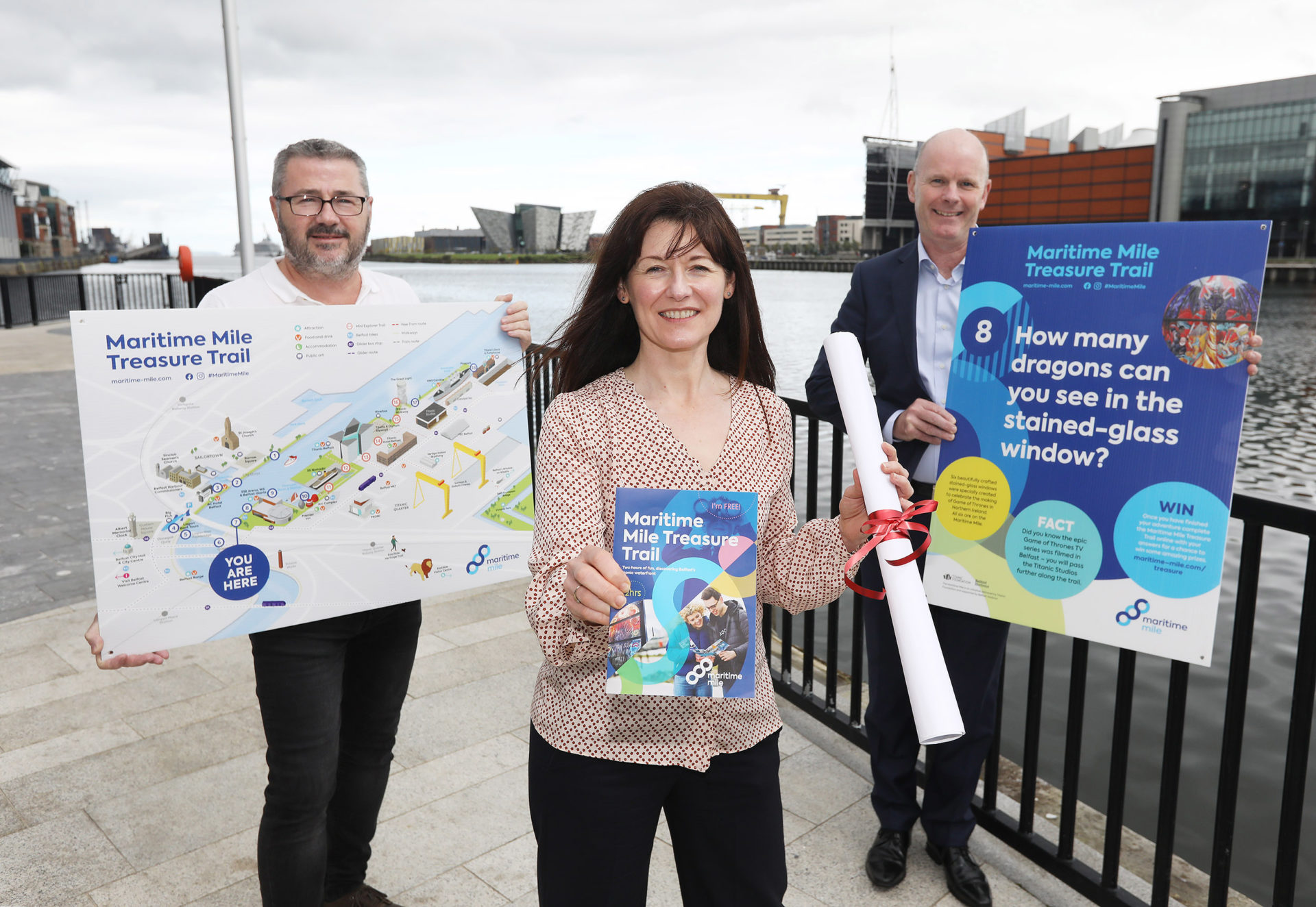 The Maritime Mile Treasure Trail was launched in the summer of 2020 to encourage people to explore the rich maritime heritage of Belfast. The outdoor family experience takes visitors from one end of the Maritime Mile to the other, with questions, clues, facts and challenges along the way on what they can see and what they have learnt as they explore. There's even a mini explorers trail. Everyone who completes the experience will get their very own Maritime Mile certificate.
This is a joint initiative with Belfast Harbour.
The Treasure Trail features some of the newest additions to the Maritime Mile: the Belfast Buoys, Glass of Thrones, and Riverbox.
Upcoming projects: SoundYard
Maritime Belfast are working with the young architects who won the Royal Society of Ulster Architects (RSUA) and JP Corry's "CityPlay" design competition, to develop a play area on the Maritime Mile.
The winning idea by Eunan Deeney, Hannah Wilson and Matthew Kernan is entitled Sound Yard. Inspired by the noise of striking metal emanating from the old ship yard, the proposal is for an interactive play area consisting of a constellation of chimes made from metal pipework. Whilst the sound frequencies are to be reminiscent of the ship yard the aim is to create a harmonic, inclusive play space that provides a focal point on the waterside walkway near the Odyssey.